BUSINESSES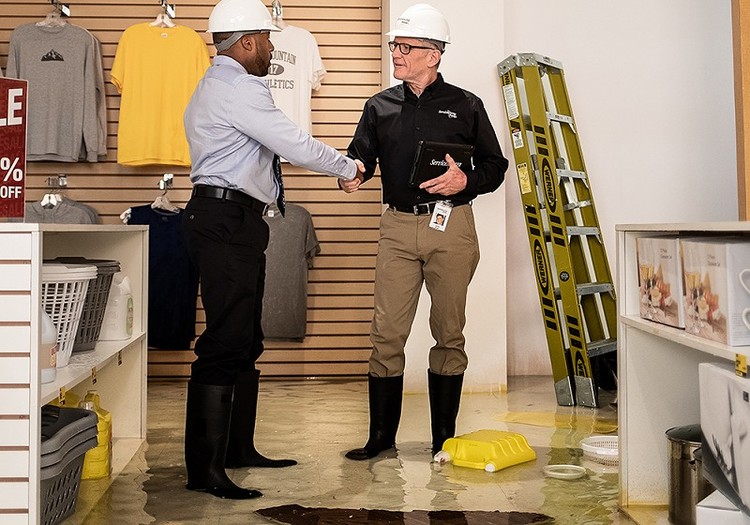 ---
If your business property has been damaged by a storm, flood or fire, it's essential to get things back to normal as quickly as possible. That's why ServiceMaster Restore of Peterborough is on call, 24 hours a day, 7 days a week, 365 days a year, to provide businesses like yours with the best, most reliable disaster restoration services possible. We partner with you to minimize business interruption so you can get operations back up and running as soon as possible.
ServiceMaster Restore of Peterborough specializes in restoration services following disasters such as fires, floods, ice or wind storms and acts of vandalism. We respond immediately to mitigate property damage and begin disaster restoration services to minimize your business losses and help protect you against third party liability.
ServiceMaster Restore of Peterborough has developed a comprehensive disaster restoration and recovery program able to handle insurance claims of all sizes quickly and efficiently, as soon as the emergency happens.
Contact ServiceMaster Restore of Peterborough for professional commercial disaster restoration services, to get your business back on track, with minimal inconvenience to your employees and customers.
WHATEVER YOUR BUSINESS, WE HAVE THE RESTORATION SERVICES YOU NEED.
ServiceMaster Restore of Peterborough provides comprehensive disaster restoration services to all businesses, from retail and hospitality, to government, healthcare and industrial sectors. Our services include:
Emergency Mitigation Services
Professional Drying & Dehumidifying
Emergency Power
Board-up Services
Building Stabilization
Controlled Renovation
Project Management and Consultation Services
Reconstruction Services
Data and Document Recovery
Electronics Restoration
Antiques and Fine Art Restoration
Sublimation Drying
DETAILED INFORMATION ABOUT OUR DISASTER RESTORATION SERVICES
Our Customers
PRE-LOSS DISASTER PLANNING

Click image to download
Our comprehensive emergency and restoration services deliver one of the fastest on-site response times in the industry, with the single goal of getting you back to business quickly.
Contact ServiceMaster Restore of Peterborough before disaster strikes so we can assist you in developing your customized disaster plan for your business. The benefit is that your employees will know in advance who to call and the response to that inevitable disaster will run even more smoothly.
---
GET THE COMMERCIAL SERVICES BROCHURE

Click image to download
---
Related Content
Is ServiceMaster Restore bonded/licensed/insured?
All of ServiceMaster Restore teams nationwide are licensed, bonded and insured. You can trust that any of the technicians from our team entering your commercial property will be trained, trustworthy and courteous.
How quickly can ServiceMaster Restore respond to the emergency situation at my business?
To minimize business interruption and help avoid further losses, ServiceMaster Restore responds quickly to provide flood clean up and certified water damage and restoration, fire and smoke restoration, and mold removal services to businesses across all industries. We're on call 24 hours a day, 7 days a week, 365 days a year. ServiceMaster Restore's CommercialLINK preferred partner program will ensure that your company is first in line. CommercialLINK allows you to pre-qualify ServiceMaster Restore as your vendor of choice, allowing immediate action to be taken to mitigate loss in the event of a disaster.
Is There a Difference Between Mold and Mildew?
With water damage claims on the rise, we hear a lot of talk these days about the dangers of mold. Within 24 to 48 hours of water damage, mildew and mold can start growing on wood products, tiles, drywall, carpets, fabrics an
---