Fire and Smoke Damage Restoration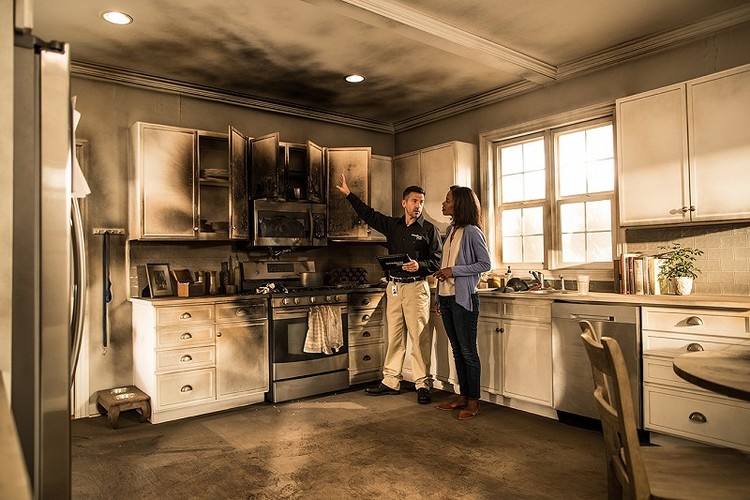 ---
YOUR LIFELINE FOR FIRE AND SMOKE DAMAGE RESTORATION SERVICES
When your home or business has been damaged by fire, it's essential to enlist the services of trusted fire and smoke damage restoration experts as quickly as possible. That's why ServiceMaster Restore of Peterborough is available to take your call 24 hours a day, 7 days a week, 365 days a year. If your home has experienced smoke damage or fire damage, time is of the essence. Don't wait to call your smoke and fire
damage restoration professionals now!
WHEN YOU EXPERIENCE FIRE OR SMOKE DAMAGE, FAST ACTION IS IMPORTANT
Following the initial fire or smoke-related incident, smoke and soot will settle on surfaces creating additional damage to the structure and contents of your property.
Materials in furniture and flooring are often synthetic and when burned, create chemical reactions. The longer these chemicals, acids or corrosive gasses are left on at-risk surfaces, the worse the pitting or etching damage becomes. After only a short period of time, your belongings and fixtures can go from cleanable to unsalvageable. Our professional pre-cleaning techniques neutralize the acids and protect surfaces from further damage. We remove soot from aluminum and chrome shelving, marble, tile, and glass, as well as from fabrics in upholstery and carpets, and more.
THE LEADER IN THE SMOKE AND FIRE DAMAGE RESTORATION INDUSTRY
With 65 years of expertise and experience, ServiceMaster Restore of Peterborough is an industry leader in smoke and fire damage restoration. We provide comprehensive, professional smoke and fire damage restoration services, and other related services, such as water damage restoration, disaster restoration, mold removal and more. If your home or business is ever disrupted by fire or smoke damage, turn to us for reliable, smoke and fire damage restoration services you can trust.
WHY YOUR HOME OR BUSINESS NEEDS SMOKE AND FIRE DAMAGE RESTORATION
During a fire, smoke is driven by heat and penetrates throughout your home. Smoke can combine with humidity and form corrosive residues. Residual smoke may burn as well, causing etching, pitting or chemical burning on surfaces. The longer your home goes without smoke and fire damage repair, the greater the damage that may occur.
Smoke and fire damage restoration requires several phases. We use the most up-to-date technology, equipment and procedures in our fire damage restoration process:
Emergency pre-cleaning
Corrosion Mitigation
Content cleaning
Content pack-out
Wall and ceiling cleaning
Deodorization
RESTORING PEACE OF MIND® 24/7
ServiceMaster Restore of Peterborough is available to respond to your emergency needs and provide you with solutions to personal and business property losses, 24 hours a day, 7 days a week, 365 days a year. Our certified smoke and fire damage restoration technicians complete training in fire mitigation, restoration and corrosion control, and undergo continuing education to learn new techniques. For 65 years, we've been Restoring Peace of Mind® by providing expert smoke and fire damage restoration for homes and businesses.
Contact ServiceMaster Restore of Peterborough to learn more about smoke and fire damage restoration, now.
Services

TIPS FOR PREVENTING FIRES IN HOME OR BUSINESSES:
Place a smoke alarm on each floor of your home or business (and one in each bedroom at home).
Store fire extinguishers within reach in the kitchen and utility areas.
Schedule service and cleaning annually for furnaces, heating systems, chimneys and fireplaces.
Avoid overloading electrical circuits. Check extension cords and fuse boxes or circuit breakers, making sure there is never a combination of appliances that exceeds 1500 watts on the same circuit.
---
Related Content
Can we clean up fire or smoke damage in our commercial facility?
After fire and smoke damage to your commercial property, we do not recommend you attempt any "do-it-yourself" cleaning methods without first consulting your ServiceMaster Restore qualified Restoration Technician. Pre-testing, using the right cleaning agent for particular items, mixing deodourizing agents with cleaning solutions and using correct dilution ratios are just some of the ways an expert fire restoration technician attains professional and controlled results. Professional cleaning systems and products used by experienced, trained technicians give you the best chance for successful restoration of your property and its contents.
What are some safety concerns after smoke and fire damage in my home?
Occupant and worker safety is ServiceMaster Restore's top priority. During the initial inspection, safety hazards are identified and addressed, including debris removal, air quality, electrical issues, slip and trip hazards, etc. Burnt electrical appliances are separated out for disposal, and questionable electrical appliances are unplugged and tagged for evaluation of safe operation. Electrical power may have to be turned off until evaluation by a licensed electrician is completed.
Home Fire Safety and Prevention
Fires claim eight lives each week in Canada, and almost three-quarters of those deaths are a result of residential fires. According to Fire Prevention Canada, hom
---